Take a Paris public transport bus or privately run "hourly bus tours" to visit Paris.
One ways to visit Paris and discover Paris secrets, is using the Paris public transport services.
Public transport Buses
When we talk about Public Transport busses, one name out stands and that is RATP.
The RATP operates the Public Transport buses in Paris and a significant number of other bus lines in its suburbs since 1906.
Download the Paris Bus map here :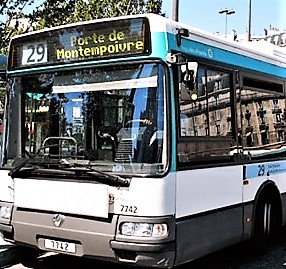 Tickets
Tickets are available in all Metro train stations, and also available in all the RATP Buses.
In the bus, you can buy the ticket from the bus drivers. Prices vary, when you purchase your ticket from the ticket vending machine it will cost you 2 Euros, and you will pay 2 Euros if you purchase your ticket from the bus driver.
If you wish to have a combined ticket which you can use on metro and also on the RATP buses, you will need to purchase "t+" ticket.